Big Valley News & Photo
Entertainment -
News
Written by B|V|N Newsroom
Monday, 09 April 2012 12:50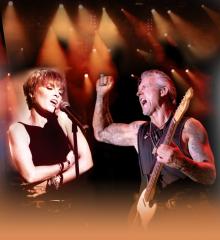 Concerts Set to Kick-off on July 21st, Tickets Now on Sale
PASO ROBLES - Four-time Grammy winner Pat Benatar and Neil Giraldo are hitting the road with legendary rock band Journey for a concert tour that's set to launch on July 21st in San Bernadino, California at the San Manuel Amphitheatre. Shows will span across the U.S. with stops in Seattle, Denver, New York, Indianapolis, Dallas, Atlanta, Jacksonville and many more cities. The Canadian rock band, Loverboy, will also be part of the stellar performance lineup.
"We're eagerly awaiting the Summer Tour 2012 this year. Journey and Loverboy will be joining us. Performing for our fans is the best part of what we do and we're excited this year to have some surprises and introduce some new material to everyone," the couple says.
Read more...
News - Local

Written by B|V|N Newsroom

Sunday, 08 April 2012 19:29

STOCKTON – U.S. Marshal Albert Najera of the Eastern District of California announced today that the U.S. Marshals Service arrested 20 year old Angelo Estrada in Stockton, California. Estrada was wanted for assault with a deadly weapon in Stockton.

On February 7th 2012, Stockton P.D. was dispatched to the area of Van Buren St. and Harding Way to investigate a report of a shooting outside two schools. A gun battle broke out across the street from the El Dorado Elementary School and the Stockton School for Adults, when one car pulled up to a parked SUV.

Read more...

News - Local

Written by B|V|N Newsroom

Monday, 02 April 2012 14:25

SACRAMENTO – Danger lurks behind the wheel when a driver redirects their attention from the road to some other distracting behavior, like talking on a cellular telephone or text messaging. During the month of April, law enforcement agencies throughout California will be especially focused on taking enforcement action on these inattentive, "zombie" drivers.

The California Highway Patrol (CHP) along with the California Office of Traffic Safety (OTS), Impact Teen Drivers, and law enforcement agencies statewide are preparing to launch the second annual National Distracted Driving Awareness Month campaign, "It's Not Worth It!" During the campaign kickoff month in April 2011, more than 52,000 citations were issued by law enforcement statewide, four times the monthly average. A first time citation will cost a minimum of $159, with a second violation at least $279.

Read more...

News - Local

Written by B|V|N Newsroom

Tuesday, 03 April 2012 10:05

MADERA - Former Madera County Judge Eric Wyatt passed away Saturday at the age of 45 after a three year battle with brain cancer. Judge Wyatt was born in Visalia and raised in Salinas with his younger brother Keith. He graduated from Salinas High School and received a bachelor's degree from the University of California, Davis.

He earned his law degree from Santa Clara University and began his law practice in the early 1990's with the firm of Mortimer and Oakley. He would later become a partner in that firm before leaving to begin his career with the Madera County District Attorney's Office.

Read more...

News - Local

Written by B|V|N Newsroom

Monday, 02 April 2012 13:53

MERCED - Police were dispatched to the listed address for a burglar alarm at C&S Tow Company. Merced Police Officer's Eduardo Chavez and Sean Green were the first to arrive at the business. While checking the perimeter of the business the officers found that the back southeast fence had been cut. Officer Green saw a subject inside of a vehicle.


When the suspect saw the officer he began to run in an attempt to escape the scene. Several other officers had arrived securing the perimeter of the business and took the suspect into custody before he was able to make it out of the fenced enclosure. This suspect was identified as Joseph Rivera.

Read more...
«
Start
Prev
241
242
243
244
245
246
247
248
249
250
Next
End
»
Page 243 of 251