Big Valley News & Photo
News -
Opinion
Written by B|V|N Newsroom
Saturday, 02 April 2011 18:56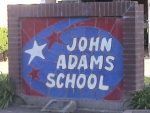 Another Exclusive Big Valley News Editorial

Madera - Madera Unified's John Adams Elementary School is being led by a "lame duck" principal who was recently reassigned back to the classroom by the school district. Under his leadership the multiple award winning "California Distinguished School" failed to meet its federal goals last year for the first time. One more failure and the school that was once the "Golden Apple" of the district with the highest test scores, will fall into Program Improvement (PI) status and be on probation.

Read more...
News - Opinion

Written by B|V|N Newsroom

Monday, 07 March 2011 05:43

Another Exclusive Big Valley News Editorial




Madera - On the front page above the fold of Saturday's Madera Tribune there was a photo of a smiling lady with the headline, "Teachers call for work slow down". Why is this lady smiling and what is the story behind her smile?

A work slow down will only hurt the students; our children. Grades won't be recorded in a timely manner. Progress reports won't get to parents so that a student falling behind can get the help they need. Appropriate time will not be put into the development of lesson plans so that our students get the information they need to learn.




Why is this lady smiling when our children are going to suffer from a work slow down?


Read more...

News - Opinion

Written by B|V|N Newsroom

Thursday, 29 July 2010 22:22

An Exclusive Editorial by Big Valley News

Madera - If you are a fan of Facebook you have probably ran across a group on the web site who claims they are interested in helping the children of our local schools with purchasing supplies for the classroom. Madera Unified District PTA is a Facebook group created by an employee of Madera County Mental Health Department, Lynn Cogdill.

Cogdill is a candidate for the Madera Unified School District Board of Trustees District 2 as he returned his paperwork to the Madera County Clerks Office Friday afternoon. Realtor Edward McIntyre is also a declared candidate for the seat currently held by Phillip Jansen. McIntyre is the husband of former Madera County Supervisor Gail Hanhart-McIntyre.

Read more...

News - Opinion

Written by B|V|N Newsroom

Wednesday, 26 January 2011 01:24

Madera - Oh what a four years it is going to be at Madera Unified with the likes of Lynn Cogdill and Robert Garibay on the board of trustees. During public comment at last night's board meeting I brought up how Trustee Cogdill has been contacting my teenage step-son on Facebook with friends requests; requests that have been ignored and deleted. I questioned why a man of Mr. Cogdill's age would be contacting high school students on Facebook and whether or not that was appropriate.



With the way board president Garibay scolded me following my comments you would have thought I accused Cogdill of cheating on his wife, fighting to not pay his kids child support or saying he had no idea which of his kids were really his. He said my comments were out of line and inappropriate for that forum but where else would they be brought up?




Read more...

Photo Gallery - Sports Events

Written by B|V|N Newsroom

Friday, 28 May 2010 08:54

Fresno - The Golden Eagle seems to be always a bride's maid, never a bride. For the third time in the last six years Clovis West has fallen to the Buchanan Bears in CIF Division One baseball Valley Championship.

Despite a first inning that scored seven runs for both teams, Clovis West bats left the building and weren't able to come back from a third inning three run rocket off the bat of Bears' Jason Gonzalez.

Read more...
«
Start
Prev
241
242
243
244
245
246
247
248
Next
End
»
Page 247 of 248