News -
Local
Tuesday, 12 June 2012 10:12
Fresno County - Sheriff Margaret Mims today announced the arrest of two Fresno men, one a street gang member, after a vehicle pursuit in and around north Fresno. Arrested were 24 year old Craig Blain Smith and 24 year old Alex Ortiz.
The incident started when a Sheriff's deputy attempted to stop a purple, 1995 Honda Civic in the area of Herndon & Fwy 99. When the deputy activated his emergency lights to affect the stop, Smith failed to yield and a pursuit ensued.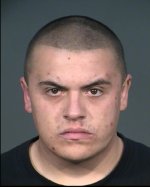 The pursuit lasted for approximately 10 minutes and reached high speeds as it drove through several neighborhoods.
Assisting CHP units were able to deploy a spike strip which disabled the vehicle near Fruit & Cortland. Both suspects then ran from the vehicle but were quickly apprehended.
The subsequent investigation revealed that the vehicle was a reported stolen from Fresno, and that the suspects had put a different plate on the rear. Smith was arrested on charges of vehicle theft, possession of stolen property, resisting arrest, possession of burglary tools, and felony evading. Smith also had outstanding warrants for vehicle theft, burglary, and theft.
Ortiz was arrested on charges of vehicle theft and possession of stolen property. Both were later booked into the Fresno County Jail.
Tell a friend about Big Valley News
Comment on the Message Board

Click Here to Comment
Don't just sit there, join the conversation! Just register your account to comment and let us know what you think. Have fun, but please keep it clean and stay on topic — inappropriate remarks will be removed. Commenting Rules: (1) Please increase the credibility of your post by including your full name in the body of your comment. (2) If you would not talk a certain way at a public meeting do not do it on BVN (3) Hate speech of any kind, libelous statements or threats to fellow users or others will be rejected and may be grounds for suspending or terminating a users account. (4) Any post on the message board that is SPAM or commerical use will be rejected and the users account will be suspected or terminated.

Look back at rule number two! Read the BVN Terms of Service at
http://tinyurl.com/8mwb3rz