News -
Local
Tuesday, 19 June 2012 13:15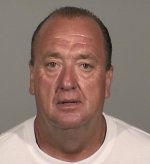 CLOVIS - About 9 o'clock Tuesday morning, Clovis Police arrested Jack Alford (48) during a traffic stop at Shaw and McKelvy (west of Temperance) in Clovis.
Officers had been looking for Alford since he was identified as the man yanking copper wire out of a pole in the area of Sunnyside and Tollhouse yesterday. The suspect fled the area and left the wire behind, but not before causing thousands of dollars in damage.
A probation check of his residence revealed a flashlight, pair of wire strippers and a pair of gloves stored in a backpack. Witness photos reveal he had the backpack with him at the time of the attempted theft.
Officers booked Alford for felony vandalism, and transported him to the Fresno County Jail.
Tell a friend about Big Valley News
Comment on the Message Board

Click Here to Comment
Don't just sit there, join the conversation! Just register your account to comment and let us know what you think. Have fun, but please keep it clean and stay on topic — inappropriate remarks will be removed. Commenting Rules: (1) Please increase the credibility of your post by including your full name in the body of your comment. (2) If you would not talk a certain way at a public meeting do not do it on BVN (3) Hate speech of any kind, libelous statements or threats to fellow users or others will be rejected and may be grounds for suspending or terminating a users account. (4) Any post on the message board that is SPAM or commerical use will be rejected and the users account will be suspected or terminated.

Look back at rule number two! Read the BVN Terms of Service at
http://tinyurl.com/8mwb3rz