News -
Local
Thursday, 28 June 2012 12:11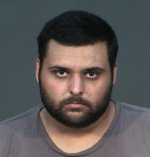 FRESNO - Fresno County Sheriff's deputies arrested a Del Rey man on several felony counts after he attempted to scrap two stolen fruit bin trailers. Arrested was 25 year old Kishan David Sangha.
Detectives from the Ag Task Force were conducting a proactive enforcement investigation at a local recycling yard located in the 3000 block of S Golden State Blvd when Sangha arrived to scrap the two trailers.
During the investigation, detectives discovered what turned out to be a stolen shotgun lying on the front passenger seat of Kishan's truck. Detectives also learned that Sangha was a convicted felon with three outstanding arrest warrants.
Sangha was arrested on the warrants as the investigation continued. Detectives learned that both trailers were stolen. They also discovered Sangha to be in possession of methamphetamine, drug paraphernalia, and ammunition.
The investigation took detectives to another location in the City of Fresno where they discovered a cargo trailer that had apparently been stolen by Sangha two weeks earlier.
As a result, Sangha was arrested and booked in to the Fresno County Jail on several charges including, vehicle theft, three counts of possession of stolen property, grand theft, felon in possession of a firearm and ammunition, committing a felony while armed, several narcotics charges, and probation violations.
Tell a friend about Big Valley News
Comment on the Message Board

Click Here to Comment
Don't just sit there, join the conversation! Just register your account to comment and let us know what you think. Have fun, but please keep it clean and stay on topic — inappropriate remarks will be removed. Commenting Rules: (1) Please increase the credibility of your post by including your full name in the body of your comment. (2) If you would not talk a certain way at a public meeting do not do it on BVN (3) Hate speech of any kind, libelous statements or threats to fellow users or others will be rejected and may be grounds for suspending or terminating a users account. (4) Any post on the message board that is SPAM or commerical use will be rejected and the users account will be suspected or terminated.

Look back at rule number two! Read the BVN Terms of Service at
http://tinyurl.com/8mwb3rz