News -
Sports
Wednesday, 11 July 2012 23:42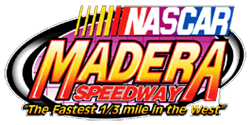 MADERA - Making his first appearance this season on the "Fastest 1/3 Mile in the West," former Indy car driver Davey Hamilton will grace the Madera Speedway track in the "Gerhardt Classic" on Saturday, July 7, 2012 for Round 3 of the Super Saturday presented by Coors Light featuring the 410/360 Super Modifieds, USAC Sprint Cars, BCRA/USAC Midgets, NCMA Sprint Cars, Sports Mods, BCRA Vintage Sprints and Midgets.
Hamilton, who has ran 11 times in Indianapolis 500 — including a fourth-place finish in 1998 — the most recent being last season, will compete in the 100-lap BCRA/USAC midgets main with a three wide start on the Speedway's newly paved asphalt.
He will face the likes of previous main winners Chad Nichols (May 5) and Scott Pierovich (June 9) in a fast-paced wild race that last time out featured 16 cars.
The USAC Sprint Cars also promise to give a quality race as Brian McClish, who won the last main on June 9, will try to make it two. It won't be easy with drivers such as Tony Hunt, who won the first 50-lap main of the season at the Madera Speedway, and Cody Gerhardt lining up beside him to start the main.
Gerhardt, whose late grandfather Fred the event is named after, took second behind McClish in the last race on June 9.
The NCMA Sprint cars will run a 30-lap main as Ed Amador and David Goodwill have each captured mains this season with Denny Burrell knocking on the door with two top-three finishes.
Qualifying begins at 4 p.m. with the racing set to begin at 6 p.m.
Tell a friend about Big Valley News
Comment on the Message Board

Click Here to Comment
Don't just sit there, join the conversation! Just register your account to comment and let us know what you think. Have fun, but please keep it clean and stay on topic — inappropriate remarks will be removed. Commenting Rules: (1) Please increase the credibility of your post by including your full name in the body of your comment. (2) If you would not talk a certain way at a public meeting do not do it on BVN (3) Hate speech of any kind, libelous statements or threats to fellow users or others will be rejected and may be grounds for suspending or terminating a users account. (4) Any post on the message board that is SPAM or commerical use will be rejected and the users account will be suspected or terminated.

Look back at rule number two! Read the BVN Terms of Service at
http://tinyurl.com/8mwb3rz