News -
Sports
Written by B|V|N Newsroom
Friday, 13 July 2012 22:30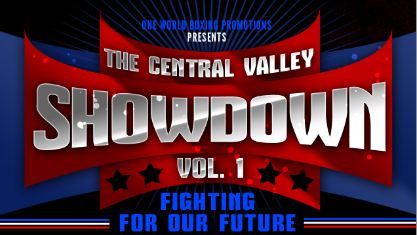 TULARE – One World Boxing Promotions, along with sponsor O.N.E Coconut Water, will be hosting its first-ever professional boxing show on August 24, 2012. The event will take place at the Tulare Fairgrounds, located at 215 Martin Luther King Jr. Ave, Tulare, CA 93274. Doors open at 6:00 pm and the first bout starts at 7:30 pm.
This event will showcase the talents of several up and coming boxers affiliated with One World Boxing Promotions and serve as an exposure event for both the boxers and the organization. A portion of the proceeds generated by this event will be donated to the 24th District Agricultural Foundation Inc., Children's Fair Fund and FUND Inc.
"It's a known fact, that strengthening a community is vital to its growth and prosperity," explains Dale Morris of One World Boxing Promotions. "One World Boxing is honored to lend a hand to communities in the Valley by donating a portion of the profits from this event to several organizations that are intent on making our communities a better place to live and learn. Together we can improve the quality of life in our communities."
The main fight of this event will take place between undefeated prospect Roman Morales from San Ardo, CA and Jonathan Alcantara from Novato, CA. Also headlining the event will be undefeated heavyweight Scott Alexander from Los Angeles, CA versus Derrick Williams from Merced, CA. The bill for Central Valley Showdown will include:
Ruben Mendoza - Tulare, CA

Omar Barefield - Central CA

Lisa Lewis - Fresno, CA

Claudia Gutierrez - Chico, CA

Julian Lopez - Fresno, CA

Luis Villagomes - Central CA

Granson Clark - Los Banos/Dos Palos, CA

Terri Lowe - Sacramento, CA

Rodolfo Martinez - Central CA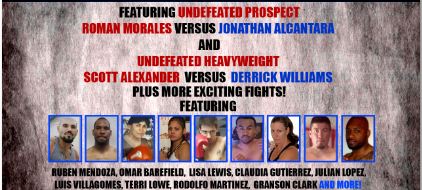 One World Promotions, formed in 2012, is a Boxing Promotional Company based in the Central Valley of California. One World Promotions is intent on producing the most entertaining and historical boxing matches for years to come, establishing itself as the premier and leading promotional company in the industry. The mission of One World Promotions is to put fighters and fans first.
For more information on One World Boxing or The Central Valley Showdown event, please visit facebook.com/oneworldboxingpromotions, or for live updates, follow One World Boxing on Twitter at twitter.com/oneworldboxing. For ticket information please call 559-686-4707 or visit www.tcfair.org.
###
Comment on the Message Board

Click Here to Comment
Don't just sit there, join the conversation! Just register your account to comment and let us know what you think. Have fun, but please keep it clean and stay on topic — inappropriate remarks will be removed. Commenting Rules: (1) Please increase the credibility of your post by including your full name in the body of your comment. (2) If you would not talk a certain way at a public meeting do not do it on BVN (3) Hate speech of any kind, libelous statements or threats to fellow users or others will be rejected and may be grounds for suspending or terminating a users account. (4) Any post on the message board that is SPAM or commerical use will be rejected and the users account will be suspected or terminated.

Look back at rule number two! Read the BVN Terms of Service at
http://tinyurl.com/8mwb3rz
Tell a friend about Big Valley News