News -
Local
Wednesday, 01 August 2012 01:35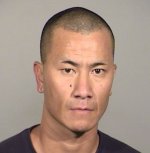 CLOVIS - Police arrested Sorn Moua, 32 years of age and a 17 year old juvenile, both from Fresno on charges of attempted homicide and participation in a criminal street gang. On Saturday the 21st of July just before 7:30 p.m. Moua and the juvenile approached a man who was playing soccer at Miramonte Elementary School and asked him if he was a gang member.


The man replied no and the victim was then assaulted and stabbed several times by Moua; while the juvenile then pulled out a gun and also hit the victim. The victim was able to get away from his attackers and run to his car; he then contacted a Fresno Police Officer in the area of Peach and Olive.

The Fresno Police Department contacted Clovis Police and their gang investigators. The investigation led officers to identifying Sorn Moua of Fresno and the 17 year old juvenile. Prior to serving a search warrant in the 2700 block of North Weber on Monday July 30th, Clovis Officers took Moua into custody during a traffic stop in Fresno.
Moua is being charged with attempted homicide as well as being a convicted felon carrying a concealed firearm as Officers found a loaded handgun in the vehicle with Moua.
Tuesday morning the Fresno County Probation Adult Compliance Team (ACT) conducted a probation search also in the 2700 block of North Fresno for the juvenile who pistol whipped the victim during the assault.
The ACT Team arrested the 17 year old juvenile who will also be charged with attempted homicide, participation in a street gang, assault with a deadly weapon, minor in possession of a handgun and a probation violation.
The victim is recovering from his extensive injuries and is not being identified to the public at this time.
Tell a friend about Big Valley News
Comment on the Message Board

Click Here to Comment
Don't just sit there, join the conversation! Just register your account to comment and let us know what you think. Have fun, but please keep it clean and stay on topic — inappropriate remarks will be removed. Commenting Rules: (1) Please increase the credibility of your post by including your full name in the body of your comment. (2) If you would not talk a certain way at a public meeting do not do it on BVN (3) Hate speech of any kind, libelous statements or threats to fellow users or others will be rejected and may be grounds for suspending or terminating a users account. (4) Any post on the message board that is SPAM or commerical use will be rejected and the users account will be suspected or terminated.

Look back at rule number two! Read the BVN Terms of Service at
http://tinyurl.com/8mwb3rz