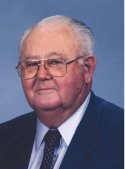 Ralph Philip Reitz (91) was born in Fresno, CA on June 28, 1923, to Philip and Eva Reitz, and went to be with the Lord on Sunday, June 7, 2015. He attended Locan Elementary School near Kings Canyon and Temperance Avenue, and graduated from Sanger High School in 1941. He attended Fresno State College for three semesters until his education was interrupted by World War II.
After the December 7, 1941, attack on Pearl Harbor, he enlisted in the United States Army Air Corps. In the Air Corps, he trained to be a pilot in California, Montana, and New Mexico. During this time, he met his future wife, Frances Sullivan, of Nashville, TN with whom he shared his married life for 65 years. They moved to California after the war in 1946, and settled in Fresno, CA.
He worked in sales for NAPA auto parts in Sanger, CA, for 39 years. In 1959, they moved to a ranch and vineyard in southeast Fresno near Sanger where they raised their family and also farmed until retirement. Ralph loved baseball and other sports. He volunteered to coach a little league baseball team in the Lone Star community and helped to start the first little league in the Sunnyside area.
He was an avid fisherman and enjoyed hunting, camping, and fishing, throughout California, Mexico, and Alaska. He was known by his friends as a great fisherman and a dead eye shot when hunting. He always shared his catch with his friends in the Sanger area.
Ralph and Frances had three sons, with whom they shared their love and enjoyment by helping them grow up and become talented and compassionate people. They attended every sporting event, club meeting, and school function with them and continued to do this with their grandchildren. He and Frances also volunteered for numerous community projects and helped for many years with the Lone Star area Fresno Fair Booth that raised money for the PTA.
He was preceded in death by his wife Frances; and his son Glenn. He is survived by son, Mark and his wife Cherry; and grandchildren, Brian and his wife Kristen, Christopher and his wife Amy, and Jennifer; and one great-grandchild Finley, who all reside in Fresno; son, Dale and his wife Karla; and grandchildren, Douglas and Kurtis, who all live in Edmond, OK.
He will be remembered for his World War II military service, work ethic, loyalty, generosity, and willingness to help his many friends, co-workers, neighbors, and children. The family is greatful for the care Ralph received at Carrington Pointe, in Fresno, CA.
A Funeral Service will be held at Wallin Funeral Home, 1524 9th Street, Sanger, CA, on Thursday, June 11, 2015, from 11:00 a.m. to 11:45 a.m. Interment will follow at the Sanger Cemetery, on O Street near Centerville, CA, at approximately 12:30 p.m. Thereafter, a celebration of life luncheon will be held nearby. In lieu of flowers, remembrances may be made in his name to The Disabled Veterans of America; or the Lone Star School PTA.