Life -
Obits
Written by B|V|N Newsroom
Tuesday, 17 December 2013 10:12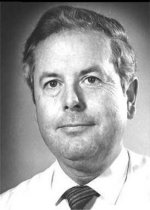 FUNERAL SERVICES SET FOR SATURDAY IN MADERA

MADERA - Darwin Gordon Shebelut, long time Madera Automobile Dealer, developer, and recognized community leader passed away on Monday, December 16, 2013 at St. Agnes Medical Center in Fresno. Mr. Shebelut, age 93, was born in Madera, California to Conrad and Artye Shebelut. Darwin attended local schools and was a 1938 graduate of Madera High School where he was the senior class president.

At four years old, he received a nineteen inch loving cup as his prize after winning the 1925 Baby Adonis of California Pageant. During the contest held in Santa Cruz, California, Mr. Shebelut was named the most handsomest contestant of them all. A news article printed at the time said the trophy was so large the tiny recipient had a hard time lifting it.
After high school, he continued his education Stanford University where he was an active member of the Theta Xi Fraternity and competed as a middleweight boxer on the Stanford boxing team.

Upon graduation, Darwin was commissioned in the United States Army as a Second Lieutenant. He served in the Signal Corps for four years with the United States Army during World War II in France and Germany and participated in the Battle of the Bulge. By war's end, he was promoted to the rank of Captain.
Returning from military service, he married Wilma Watt, and together, they raised their children Richard and Nancy. Mr. Shebelut became a businessman and an opportunist. His father owned and operated a Chevrolet dealership in Madera that he eventually took over. Under his leadership the dealership grew to include Oldsmobile and Toyota. Mr. Shebelut purchased 182 acres of subdivided land in what is now the center of Madera.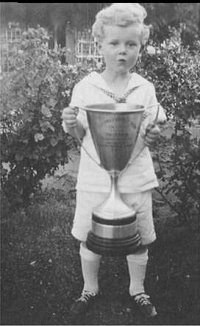 He formed a water company through the public utilities commission and developed the Parkwood area into a residential and commercial area. He built Madera's first shopping center in 1954 on that land. During the late 1970s Mr. Shebelut purchased 50 more acres of land and rezoned the area to include residential, multiple housing and commercial properties. He developed another shopping center and was the co-owner of an adjacent apartment complex.

He also owned and operated the Credit Bureau during the 1940s and 1950s. Mr. Shebelut was the president and director of American Standard Life Insurance Company, was the director of the Northern California Automobile Dealers Association for 20 years and a member of the National Automobile Dealers Association.

Outside of owning and operating numerous businesses, Mr. Shebelut was very involved in the community. He served the city of Madera as a director of the development agency and in the early 1950s he served as a Madera City councilman.

In the County of Madera he served as a director of the joint development agency, commissioner of the Juvenile Justice Commission and was the director for 18 years of the Transportation Authority. He served as the director for numerous organizations, including Madera Businessmen's Association, Madera Industrial Development Corporation and Boy Scouts of America Sequoia Council.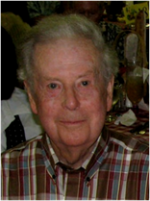 He has served as trustee for the University of California, San Francisco's Fresno Foundation, California-Nevada Methodist Homes and Hospitals, San Joaquin River Conservation Trust and the Queen of the Valley High School.

Throughout his career, Darwin took on many responsibilities demonstrating his commitment to his hometown. Mr. Shebelut was one of the founders of Madera Community Hospital in 1964 and later served as a trustee and chairman of the board. He has also been involved in Madera Noon Rotary for 42 years (and served as president), Elks Lodge 1918 (charter member), the Veterans of Foreign Wars, American Legion, Fresno Chapter International Wine and Food Society, Fresno Chapter of Skal International, Fresno Owls Club and Madera Golf and Country Club (member of organizing group). Darwin was a very humble man and hesitant to accept recognition. In 2008, he was the recipient of the Lifetime Achievement Award from the Madera Chamber of Commerce.
Although a busy man, Darwin and his wife were able to take the time to enjoy traveling throughout the world. Over the years, he enjoyed playing golf, hunting, fishing, and reading.
Darwin is survived by his wife of 66 years, Wilma of Madera, and his children, Dr. Richard Shebelut and his wife, Janet, of Fresno, CA and Nancy Schiffer and her husband, Nolan, of San Diego, CA. He is the proud grandfather of Dr. Conrad Shebelut and his fiancée, Dr. Dorothy Lerit, Captain Andrew Shebelut, United States Army, and Cate and Sarah Schiffer. He is the brother-in-law of Elsie Whitnack of Encinitas, CA and uncle to John, David, and Jane Winward.

A funeral service honoring the life and memory of Darwin Shebelut will be held on Saturday, December 21, 2013 at 10 AM at Jay Chapel in Madera. Veteran honors and entombment will follow at the Arbor Vitae Cemetery Mausoleum.

In lieu of flowers, the family suggests remembrances be made to the Madera Community Hospital Foundation, 1250 E. Almond Avenue, Madera, Ca. 93637 or the Madera Historical Society, P.O. Box 150, Madera, Ca. 93639.
Comment on the Message Board

Click Here to Comment
Don't just sit there, join the conversation! Just register your account to comment and let us know what you think. Have fun, but please keep it clean and stay on topic — inappropriate remarks will be removed. Commenting Rules: (1) Please increase the credibility of your post by including your full name in the body of your comment. (2) If you would not talk a certain way at a public meeting do not do it on BVN (3) Hate speech of any kind, libelous statements or threats to fellow users or others will be rejected and may be grounds for suspending or terminating a users account. (4) Any post on the message board that is SPAM or commerical use will be rejected and the users account will be suspected or terminated.

Look back at rule number two! Read the BVN Terms of Service at
http://tinyurl.com/8mwb3rz
Tell a friend about Big Valley News