Entertainment -
Night Out
Friday, 17 June 2011 22:58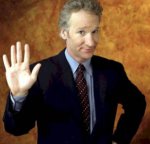 Fresno - For the last fifteen years, Bill Maher has set the boundaries of where funny, political talk can go on American television. First on "Politically Incorrect" (Comedy Central, ABC, 1993-2002), and for the last seven years on HBO's "Real Time,"
Maher's combination of unflinching honesty and big laughs have garnered him twenty-one Emmy nominations. In October of 2008, this same combination was on display in Maher's uproarious and unprecedented swipe at organized religion, "Religulous," directed by Larry Charles ("Borat").
The documentary has gone on tobecome the 7th Highest Grossing Documentary ever. In addition to his television program – which has featured such regular visitors as John Edwards, Ben Affleck, Robin Williams, Arianna Huffington, Alec Baldwin and Michael Moore.
Maher has written four bestsellers: "True Story," "Does Anybody Have a Problem with That? Politically Incorrect's Greatest Hits," "When You Ride Alone, You Ride with Bin Laden" and most recently, "New Rules: Polite Musings from a Timid Observer."

Maher started his career as a stand-up comedian in 1979, and still performs at least fifty dates a year in Las Vegas and in sold out theaters all across the country. Two of his eight stand-up specials for HBO – 2007's "The Decider" and 2005's "I'm Swiss" – have been nominated for Emmy awards.
Show Date: Sun. Oct. 30, 2011, Tickets for Bill Maher at William Saroyan Theatre in Fresno are $49.50 and $69.50 and go on-sale at 10:00 A.M. on Friday, June 24, 2011.

Tell a friend about Big Valley News
Comment on the Message Board

Click Here to Comment
Don't just sit there, join the conversation! Just register your account to comment and let us know what you think. Have fun, but please keep it clean and stay on topic — inappropriate remarks will be removed. Commenting Rules: (1) Please increase the credibility of your post by including your full name in the body of your comment. (2) If you would not talk a certain way at a public meeting do not do it on BVN (3) Hate speech of any kind, libelous statements or threats to fellow users or others will be rejected and may be grounds for suspending or terminating a users account. (4) Any post on the message board that is SPAM or commerical use will be rejected and the users account will be suspected or terminated.

Look back at rule number two! Read the BVN Terms of Service at
http://tinyurl.com/8mwb3rz