News -
Local
Written by B|V|N Newsroom
Friday, 03 February 2017 10:57

FRESNO - The Fresno County District Attorney's Office has filed a Misdemeanor Criminal Complaint against Fresno State student that was also a Bulldog Mascot for a series of sexual gropings last year near the Fresno State Campus.

Deandre JeanPierre has been charged with five (5) misdemeanor counts of Sexual Battery [Penal Code section 243.4(e)] involving five (5) different victims over a period of three (3) months. If convicted of the charges, Mr. JeanPierre faces local jail time, as well as being required to register as a sexual offender.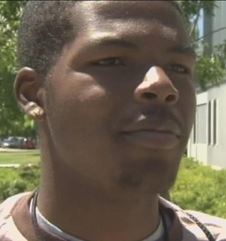 Mr. JeanPierre is scheduled for arraignment in Department 2 of the Fresno County Superior Court on Tuesday, February 28, 2017. After his arrest last December, Mr. JeanPierre posted a bail bond and was released from the Fresno County Jail.
Comment on the Message Board

Click Here to Comment
Don't just sit there, join the conversation! Just register your account to comment and let us know what you think. Have fun, but please keep it clean and stay on topic — inappropriate remarks will be removed. Commenting Rules: (1) Please increase the credibility of your post by including your full name in the body of your comment. (2) If you would not talk a certain way at a public meeting do not do it on BVN (3) Hate speech of any kind, libelous statements or threats to fellow users or others will be rejected and may be grounds for suspending or terminating a users account. (4) Any post on the message board that is SPAM or commerical use will be rejected and the users account will be suspected or terminated.

Look back at rule number two! Read the BVN Terms of Service at
http://tinyurl.com/8mwb3rz
Tell a friend about Big Valley News