Life -
Obits
Written by B|V|N Newsroom
Tuesday, 14 February 2017 11:19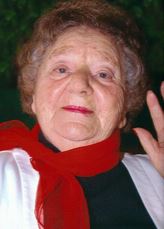 Irene Sordi (99) - The gates of Heaven opened up for Irene Sordi and her soul was delivered into the hands of God on February 9, 2017. She is now happily reunited in Heaven with the love of her life, Babe Sordi. She was born in Hoboken, New Jersey to her parents Catterina Sirena and Luigi Schiavoni on January 21, 1918.
Irene and her father moved to Madera following her mother's death when she was twelve years old. She graduated from Howard School and attended Madera High School. Irene met Babe at Howard School and was married in 1937. They had two girls.
Momma was a Proverbs 31 woman, a wife of noble character and great wisdom, being a true life partner to her husband a plumber and farmer for seventy one years. She irrigated, drove tractor, rolled raisin trays, tied vines and was Dad's bookkeeper.
She was proud of her nursing career. She worked at the old county hospital for sixteen years as an L.V.N.
She played in three clatter bands in Oakhurst where they lived for twenty seven years. She played the accordion, piano, harmonica and the melodica. When they moved back to Madera she became a member of The Shades of Gray and was one of their vocalists for several years. She loved to sing and dance.
Irene was on two bowling teams into her late eighties but her best traits were the love of her children, family and friends. She loved to cook, especially Italian food, and was best known for the parties she used to have with lovely decorated tables. Her well organized home was open to anyone who stopped by for a visit. She seemed to always have an extra place setting at the table.
Momma's love for everyone showed the true spirit of Christ's love for us. Irene was a devout and faithful Christian woman and had a definite love for her Lord and Savior Jesus Christ. Her faith in God was inspiring to all who knew her and were blessed by her many prayers.
Our parents instilled in us a strong connection to family, hard work, and a sense of community. Irene was a great example of the love of Jesus and has left a hole in our hearts. We know she is in Heaven singing and dancing. She was a loving mother, wife, sister grandmother and great grandmother. She was preceded in death by her parents, Catterina and Luigi Schiavoni, her sisters, Libera Buongiorno, Renna Youmatzo, husband Babe Sordi and granddaughter, Julie Gleason Mc Cully.
She is survived by her children and their spouses, Barbara and Ross Thornton and Marjorie and Roy Cipriani, her grandchildren, Curt Gleason and Renna Magana, her great grandchildren, Lilly Gleason, Cole, Garrett and Caitlin Mc Cully, and Andrew and Dominic Magana.
The family extends their heartfelt thanks and gratitude for the kind service provided by Madera Rehab and Nursing Center for the last four years.
Visitation will be held on: Thursday, February 16, 2017 from 2:00 P.M. to 4:00 P.M. at Jay Chapel with a Recitation of the Rosary to follow at 4:00 P.M. also at Jay Chapel, Madera, CA
Mass of Christian Burial will be celebrated on: Friday, February 17, 2017, 11:00 A.M. at St. Joachim Catholic Church, Madera, CA
Interment to follow at: Calvary Cemetery, Madera, CA
Remembrances may be made to: St. Joachim Catholic Church, 401 West 5th Street, Madera, CA 93637
Comment on the Message Board

Click Here to Comment
Don't just sit there, join the conversation! Just register your account to comment and let us know what you think. Have fun, but please keep it clean and stay on topic — inappropriate remarks will be removed. Commenting Rules: (1) Please increase the credibility of your post by including your full name in the body of your comment. (2) If you would not talk a certain way at a public meeting do not do it on BVN (3) Hate speech of any kind, libelous statements or threats to fellow users or others will be rejected and may be grounds for suspending or terminating a users account. (4) Any post on the message board that is SPAM or commerical use will be rejected and the users account will be suspected or terminated.

Look back at rule number two! Read the BVN Terms of Service at
http://tinyurl.com/8mwb3rz
Tell a friend about Big Valley News