News -
Local
Written by B|V|N Newsroom
Wednesday, 01 March 2017 11:04

MADERA - "Hollywood legend Ed Asner, co-star of the Mary Tyler Moore show, winner of five Golden Globes, Seven Primetime Emmy Awards and a slew of various TV and feature film roles paid a visit to the Madera South High School last Friday to promote and discuss his REELZ Channel Docudrama, "Titanic: Sinking The Myths;" portions of which were filmed in Madera County.
After a lunch at the Vineyard Restaurant with city, county and school district leaders, Mr. Asner met with drama students from Madera South who wish to pursue an acting and entertainment career. He took questions from teachers and students and shared stories from his 60 plus year career in acting.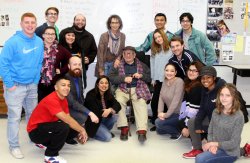 When Asner entered the classroom at Madera South he erupted with a loud "SHUT UP". Madera South High School drama teacher Ginger Latimer had already warned the students of Asner's sense of humor. While the teacher was introducing Asner, a couple hand gestures kept the students laughing as Latimer did her best to avoid a swat on the butt from the actors cane.
Asner was asked who he enjoyed working with more James L. Brooks, producer of the Mary Tyler Moor Show and a plethora of successful television productions or home town boy Ryan Katzenbach, producer of the Titanic documentary and a documentary on the Amityville murders in upstate New York which also featured Asner in voice over. His answer was quite clear about the affection he has for Katzenbach. The two met nearly fifteen years ago at the Gary Marshall Theater when Katzenbach was producing a reading of a television script he wrote about a car dealership.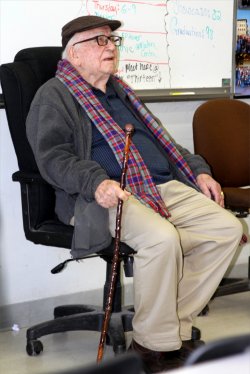 This latest docudrama, which dives into the political and economic factors of 1912 that led to the 'Titanic' disaster and appalling loss of life features a score of local Madera County student actors, as well as other local talents.

Director/Producer/Writer & Editor Ryan Katzenbach utilized the casting skills of Madera South High School Madera South Theatre Company (MSTC). While portions of the film were shot in Los Angeles, the reenacted Titanic footage was filmed at a ranch in Madera County; where Ryan and his team recreated sections of the Titanic ship.
Over 30 MSTC Theatre students made appearances in the film, as well as MSHS & Fresno City/State professors, MSHS drama alum and three local Fresno musicians.

Titanic: Sinking The Myths is currently playing on the REELZ Television Network.
---
More Photos Available on the Big Valley News Facebook Page
Comment on the Message Board

Click Here to Comment
Don't just sit there, join the conversation! Just register your account to comment and let us know what you think. Have fun, but please keep it clean and stay on topic — inappropriate remarks will be removed. Commenting Rules: (1) Please increase the credibility of your post by including your full name in the body of your comment. (2) If you would not talk a certain way at a public meeting do not do it on BVN (3) Hate speech of any kind, libelous statements or threats to fellow users or others will be rejected and may be grounds for suspending or terminating a users account. (4) Any post on the message board that is SPAM or commerical use will be rejected and the users account will be suspected or terminated.

Look back at rule number two! Read the BVN Terms of Service at
http://tinyurl.com/8mwb3rz
Tell a friend about Big Valley News