Life -
Obits
Written by B|V|N Newsroom
Wednesday, 01 March 2017 23:51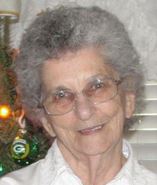 Ruth Pearson (87) a native of Little Rock, AR and a resident of Madera, CA for 79 years, passed away Sunday, February 26, 2017 at a Madera hospital. She was a waitress for over 50 years, her last 30 years working at Farnesi's Restaurant and Cocktail Lounge in Madera.
She was preceded in death by her son Frank Morgan and daughter Pam Secrest.
Ruth is survived by her daughter, Carla Roberts of Madera, CA. 4 grandchildren: Kevin Roberts of Madera, CA; Melissa Morgan of Littleton, CO; Amanda Morgan of Denver, CO and Kellen Boehne of Aurora, CO and her 2 great-grandchildren: Celeste Roberts and Mia Roberts.
Visitation will be on Sunday, March 5, 2017 from 2:00 pm to 6:00 pm at Jay Chapel in Madera. Graveside services will be Monday, March 6, 2017 at 1:00 pm at Arbor Vitae Cemetery in Madera.
Comment on the Message Board

Click Here to Comment
Don't just sit there, join the conversation! Just register your account to comment and let us know what you think. Have fun, but please keep it clean and stay on topic — inappropriate remarks will be removed. Commenting Rules: (1) Please increase the credibility of your post by including your full name in the body of your comment. (2) If you would not talk a certain way at a public meeting do not do it on BVN (3) Hate speech of any kind, libelous statements or threats to fellow users or others will be rejected and may be grounds for suspending or terminating a users account. (4) Any post on the message board that is SPAM or commerical use will be rejected and the users account will be suspected or terminated.

Look back at rule number two! Read the BVN Terms of Service at
http://tinyurl.com/8mwb3rz
Tell a friend about Big Valley News