Life -
Obits
Written by B|V|N Newsroom
Friday, 03 March 2017 11:13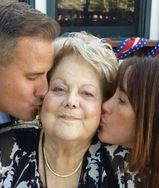 Lona Prosperi (74) passed away on Thursday, March 2, 2017 at the age of 74. Lona was born on October 21, 1942 in Los Angeles, CA. She has been a resident in Madera for 70 years. Lona was active in the community; she was a member of the Madera Community Hospital League of Volunteers, the Madera Golf and Country Club and the FT Washington Golf and Country Club.

Lona enjoyed painting, fishing and entertaining at her Bass Lake home with family and friends; she was an excellent cook and hostess. Lona also loved to travel.

She was preceded in death by her husband Bobby Prosperi in 2014. Lona is survived by her son, Michael Prosperi and his wife Darla of Friant, her daughter, Karla Bauman and her husband Steve of Cameron Park, CA, her brother, Bill Driggs of Madera, her sisters, Nancy Moles of Grass Valley, Pati Moore of Alaska. She leaves behind three grandchildren, Tyler and Nick Bauman and Wesley Kilcrease.
Celebration of life will be held at a later date.
Remembrances may be made to: American Cancer Society, 2222 West Shaw Avenue, Suite 201, Fresno, CA 93711 or St. Agnes Hospice, 6729 N. Willow Avenue, #103, Fresno, CA 93710 or Donor's favorite charity
Comment on the Message Board

Click Here to Comment
Don't just sit there, join the conversation! Just register your account to comment and let us know what you think. Have fun, but please keep it clean and stay on topic — inappropriate remarks will be removed. Commenting Rules: (1) Please increase the credibility of your post by including your full name in the body of your comment. (2) If you would not talk a certain way at a public meeting do not do it on BVN (3) Hate speech of any kind, libelous statements or threats to fellow users or others will be rejected and may be grounds for suspending or terminating a users account. (4) Any post on the message board that is SPAM or commerical use will be rejected and the users account will be suspected or terminated.

Look back at rule number two! Read the BVN Terms of Service at
http://tinyurl.com/8mwb3rz
Tell a friend about Big Valley News