Life -
Obits
Written by B|V|N Newsroom
Thursday, 23 March 2017 19:26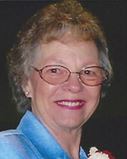 Myrna Mae Westcott (82), born October 6, 1934 in Somerton, Arizona to Walter and Lura Newton Morgan, passed away peacefully on March 19, 2017 in Madera, CA at the age of 82. Myrna was a graduate of Roosevelt High School, Class of 1953, and has been a resident of Madera for over 58 years. Myrna was known by many through the numerous clubs and organizations that she took part in.
Myrna was an active member of the United Methodist Church in Madera, where she was a dedicated member to both the Choir Group and the United Methodist Women's Group. She was also active in P.E.O. Chapter in Madera.
In 1972, Myrna was awarded the Boy Scouts of America Sequoia Medal, and then in 1974 she was awarded the Boy Scouts of America Highest Council Award for Women, 'The Silver Fawn", this for her many years of dedicated service to the youth in the Central Valley. Myrna also received the Cross and Flame Award from the United Methodist Church for her service to scouting.
She was elevated to the title of Honorary Life Member of the United Methodist Women's Group as well as being a member of the Madera County Historical Society. Outside of her many hours of dedication to the community, Myrna worked as an Accounting Clerk for the Madera Unified School District for over 16 years. Her continuous dedication to those around her was an inspiration to many, including the lives of the numerous children she impacted throughout her life.
Myrna is survived by her husband of 62 years (or as Myrna would say 1,960,761,600 seconds), William "Bill" Westcott of Madera, her three sons, William "Len" Westcott and his wife Linda of Auburn, WA, Matt Westcott and his wife Linda of Madera, and Brent Westcott of Lemoore, and her brother Jim Morgan of Elk Grove. She also leaves behind her six grandchildren, William Westcott and his wife Stephanie, Chris Westcott and his wife Michelle, Kimberly Wadagnolo and her husband Josh, Andrew Westcott and his wife Sophia, Haley Kyriss, and Paige Westcott, five great-grandchildren, Melodi Westcott, Erica Westcott, William Westcott, Izabel Gonzalez-Kyriss, Nova Westcott, and three more great-grandchildren on the way.
Visitation will be held on: Monday, March 27, 2017 from 2:00 P.M. to 8:00 P.M. at Jay Chapel, Madera, CA
Funeral Service will be held on: Tuesday, March 28, 2017, 11:00 A.M. at Jay Chapel, with interment to follow at: Arbor Vitae Cemetery, Madera, CA
Remembrances may be made in Myrna's honor to the Madera United Methodist Church 500 Sunset Avenue., Madera, CA 93637 or the American Diabetes Association, P.O. Box 11454
Alexandria, VA 22312.
Comment on the Message Board

Click Here to Comment
Don't just sit there, join the conversation! Just register your account to comment and let us know what you think. Have fun, but please keep it clean and stay on topic — inappropriate remarks will be removed. Commenting Rules: (1) Please increase the credibility of your post by including your full name in the body of your comment. (2) If you would not talk a certain way at a public meeting do not do it on BVN (3) Hate speech of any kind, libelous statements or threats to fellow users or others will be rejected and may be grounds for suspending or terminating a users account. (4) Any post on the message board that is SPAM or commerical use will be rejected and the users account will be suspected or terminated.

Look back at rule number two! Read the BVN Terms of Service at
http://tinyurl.com/8mwb3rz
Tell a friend about Big Valley News