News -
Local
Written by B|V|N Newsroom
Wednesday, 29 March 2017 19:43

FRESNO - At 1:30 am on March 11th, 2017, a robbery involving four young men took place at the ARCO am / pm gas station located at the corner of South Chestnut and East Central Avenues in Fresno. Two suspects entered the store and walked directly to the back where the alcohol is stocked. Each one then grabbed an 18-pack of beer and immediately ran toward the door.
A customer at the counter, acting as a Good Samaritan, grabbed both of them by their shirts to try and prevent them from escaping. During the struggle, one of the young men dropped the beer on the ground. The suspects were able to free themselves and run through the parking lot.
A third suspect then appeared from the side of the parking lot and pointed a gun at the customer. During the commotion, a fourth suspect picked up the case of beer that was dropped and ran away with it. The customer and store employees made a wise decision not to chase after them any further. The total loss was $30 worth of beer.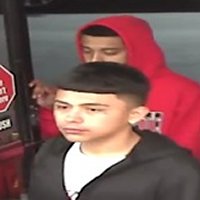 Surveillance cameras captured images of the suspects from both inside and outside the store. No arrests have been made and detectives have not identified any of the suspects. Listed below are basic descriptions of everyone who was involved.
Suspect #1 in black sweatshirt: Hispanic, 5'6", thin build, approximately 16 - 18 years old. He has a dark mark under his left eye, which is possibly a mole, tattoo or piercing.
Suspect #2 in red Fresno State sweatshirt: Hispanic, 5'5", thin build,
approximately 16 - 18 years old.
Suspect #3 in red sweatshirt with gun: Hispanic, 5'6", stocky build, late
teens or early 20s.
Suspect #4 in black sweatshirt: Hispanic, 5'7", thin build, approximately
16 - 18 years old.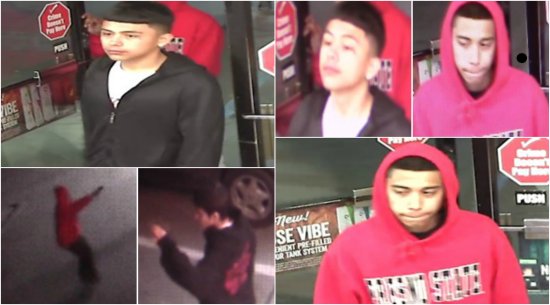 Anyone with additional information on this case should call Fresno County Sheriff's Detective Floyd Avila at (559) 600-8060 or Crime Stoppers at (559) 498-STOP (7867). You will remain anonymous and may be eligible for a $1,000 cash reward.
Comment on the Message Board

Click Here to Comment
Don't just sit there, join the conversation! Just register your account to comment and let us know what you think. Have fun, but please keep it clean and stay on topic — inappropriate remarks will be removed. Commenting Rules: (1) Please increase the credibility of your post by including your full name in the body of your comment. (2) If you would not talk a certain way at a public meeting do not do it on BVN (3) Hate speech of any kind, libelous statements or threats to fellow users or others will be rejected and may be grounds for suspending or terminating a users account. (4) Any post on the message board that is SPAM or commerical use will be rejected and the users account will be suspected or terminated.

Look back at rule number two! Read the BVN Terms of Service at
http://tinyurl.com/8mwb3rz
Tell a friend about Big Valley News