Local
News -
Local
Monday, 01 April 2013 22:16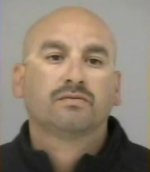 MADERA - Former California prison guard and high school coach Edward Tovar was sentenced Wednesday by the Madera Superior Court to probation for felony sexual abuse of a minor, according to Madera County District Attorney Michael Keitz.

Tovar, 39, of Chowchilla, California, pled guilty on February 20, 2013, of one count of felony sexual abuse of a minor child under the age of 18. He had been charged for his errant conduct which occurred on April 7th, 2011.
Read more...
News - Local
Monday, 01 April 2013 15:02

MADERA COUNTY -- A party turned deadly in Fairmead shortly after midnight Friday. One person is dead, two others hospitalized – all three victims of gunshot wounds.

According to reports, Deputies responded to complaints of loud music at a home located on Sinclair Drive (located near Road 19 ½ and Avenue 22 ½).

Read more...

News - Local
Monday, 01 April 2013 11:34

FRESNO - On, Saturday, March 30, 2013 just after five in the morning, the Fresno Police Department responded to Kings Canyon Middle School in Southeast Fresno for the report of burglary in progress.

Officers Bryan Williams and Benito Soto arrived and walked up to the front of the school. They noticed a male walking out of a classroom holding an object. At first the officers thought the subject was a school employee because he was dressed in a button up shirt, tie, blue jeans and loafer shoes.


Read more...

News - Local
Monday, 01 April 2013 10:53

DELANO – Kern Valley State Prison (KVSP) investigators are working with the Kern County Coroner and District Attorney's Office to investigate the death of an inmate, which has been classified as a homicide.

Prison staff found an inmate, whose name is being withheld pending next-of-kin notification, unresponsive in his cell at 7:46 p.m. on Thursday, March 21, 2013. He was declared dead at 8:44 p.m. The cell and all its contents have been secured and processed as a crime scene.


Read more...

News - Local
Thursday, 28 March 2013 20:33

MADERA - Madera Police Officers responded Wednesday evening to a pool hall and arcade center in the 1500 block of East Yosemite Ave in the City of Madera regarding a fight and subjects shooting at each other.

During their investigation, police discovered that a group of unknown Northern Gang Members were in the above establishment when a group of unknown Southern Gang Members entered through the front doors. The Southern Gang Members began to shoot a gun at the group of Northern Gang Members, who then retaliated by shooting back.

Read more...
«
Start
Prev
1
2
3
4
5
6
7
8
9
10
Next
End
»
Page 8 of 78
Tell a friend about Big Valley News
Comment on the Message Board

Click Here to Comment
Don't just sit there, join the conversation! Just register your account to comment and let us know what you think. Have fun, but please keep it clean and stay on topic — inappropriate remarks will be removed. Commenting Rules: (1) Please increase the credibility of your post by including your full name in the body of your comment. (2) If you would not talk a certain way at a public meeting do not do it on BVN (3) Hate speech of any kind, libelous statements or threats to fellow users or others will be rejected and may be grounds for suspending or terminating a users account. (4) Any post on the message board that is SPAM or commerical use will be rejected and the users account will be suspected or terminated.

Look back at rule number two! Read the BVN Terms of Service at
http://tinyurl.com/8mwb3rz