Sports
News -
Sports
Sunday, 17 June 2012 22:32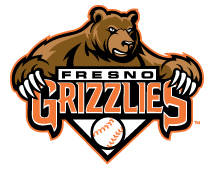 Salt Lake City, Utah - Fresno (45-25) pinch hitter Conor Gillaspie (7) belted a three-run homer in the top of the eighth inning as the Grizzlies completed a four-game sweep of the Salt Lake Bees (35-36) in a 4-2 win at Spring Mobile Ballpark on Sunday afternoon.
The Grizzlies were down 2-1 going into the top of the eighth inning, and they started their rally against Bees right-handed reliever Sean White (0-1) on a walk to second baseman Charlie Culberson. Two batters later, catcher Jackson Williams, who fought off several full-count pitches, singled to right and moved Culberson to third.
Read more...
News - Sports
Thursday, 14 June 2012 22:34

MADERA - Since 2008 the Little League team from Fresno's River Park has swept the District 10 Tournament of Champions in both the major and minor divisions. In the year 2012 that all changed when a team from Madera American, Papa Murphy's, knocked out the River Park Red Sox in four innings 10-0.

Read more...

News - Sports
Tuesday, 05 June 2012 17:37

EASTMAN LAKE - Water temperature at Eastman Lake has been hovering in the mid to high-70s. The bass bite has been good early in the day and later in the evening, but pretty slow between 9am and 5pm. Bass are biting 20'-30' down on plastic and jigs and long as they are green. Most bass this weekend were 1 or 2 pounds, with a few females up to 5 pounds.

Read more...

News - Sports
Wednesday, 30 May 2012 23:16

WEST SACRQMENTO - Sacramento River Cats (34-20) right-handed starter Travis Banwart (4-2) pitched a season-high seven innings, giving up four hits, two walks, and striking out four as he helped lead his squad to a 3-1 win over the Fresno Grizzlies (35-18) on Wednesday afternoon at Raley Field.


The only run allowed by Banwart was in the second inning on a two-out single by Fresno first baseman Tyler LaTorre. The Grizzlies would not threaten the rest of the day, and only in the second did they have a runner reach as far as second base.


Read more...

News - Sports
Wednesday, 30 May 2012 23:15
EASTMAN LAKE - The fisherman of the week at Eastman Lake is Ron Stoll of southern California. Ron caught and released an 11.3 pound bass using a wacky rig inside the 5-mph buoy zone. Other anglers had good luck with bass and bluegill despite heavy weekend traffic by ski boats and personal watercraft. The trout bite seems to be really slowing down.
Read more...
«
Start
Prev
1
2
3
4
5
6
7
8
9
10
Next
End
»
Page 10 of 14
Tell a friend about Big Valley News
Comment on the Message Board

Click Here to Comment
Don't just sit there, join the conversation! Just register your account to comment and let us know what you think. Have fun, but please keep it clean and stay on topic — inappropriate remarks will be removed. Commenting Rules: (1) Please increase the credibility of your post by including your full name in the body of your comment. (2) If you would not talk a certain way at a public meeting do not do it on BVN (3) Hate speech of any kind, libelous statements or threats to fellow users or others will be rejected and may be grounds for suspending or terminating a users account. (4) Any post on the message board that is SPAM or commerical use will be rejected and the users account will be suspected or terminated.

Look back at rule number two! Read the BVN Terms of Service at
http://tinyurl.com/8mwb3rz