News
News -
Local
Saturday, 18 May 2013 22:31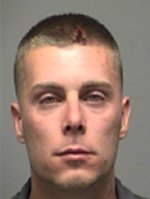 FIREBAUGH - Early Saturday morning two suspects committed a home invasion robbery on the 800 block of Dodderer in the city of Firebaugh. One of the suspects was armed with an axe, and the other was armed with a handgun. The resident of the home armed himself with a sword and killed one of the suspects.
The incident occurred in the city of Firebaugh, and Firebaugh PD requested assistance from Fresno County Sheriff's Detectives. The Sheriff's Office has taken over the investigation at this time.
Read more...
News - Local
Friday, 17 May 2013 00:00

FRESNO COUNTY - Sheriff Margaret Mims and Chief Probation Officer Linda Penner, representing several San Joaquin Valley counties, met late last week with Governor Brown's administration in Sacramento. A discussion was held on the challenges in the distribution of offender populations, necessary resources to implement and maintain services aimed at improving offender reintegration, and future funding formulas.

Since most valley counties are impacted with large offender populations and lack of jail bed space, it was an opportunity to input valley concerns for upcoming funding considerations. All valley counties recognize the unique challenges statewide in AB 109 administration, but also understand the disparity in the funding allocations in the Central Valley counties.

Read more...

News - Local
Thursday, 16 May 2013 08:00

CHOWCHILLA - The Madera County Fair's 2013 season kicked off last night with the crowning of this years Miss Madera and Little Miss Madera in the fairs Little Theater. Unlike years past, there were no crowds waiting at the door and nearly half of the seats were unoccupied. Probably because there were only two young ladies in competition for the title of Miss Madera County. The winner of this title holds her position for the 2013 fair season, but does not go on to compete in progressive pageants like the Miss California Pageant held later this year in Fresno.

Read more...

News - Sports
Wednesday, 15 May 2013 13:26

The Grizzlies will face the New Orleans Zephyrs and Oklahoma City RedHawks during eight-game homestand

FRESNO - The Fresno Grizzlies will begin an eight-game homestand on Thursday, May 16 at Chukchansi Park. The Grizzlies will play a four-game series against the New Orleans Zephyrs, Triple-A affiliate of the Miami Marlins, from May 16-May 19, and a four-game series against the Oklahoma City RedHawks, Triple-A affiliate of the Houston Astros, from May 20-May 23.

Read more...

News - Local
Saturday, 11 May 2013 12:05

MADERA COUNTY – Agents with the Madera County Narcotic Enforcement say a convicted felon's medical marijuana card isn't up to snuff, and took him into custody Friday night. Eddie Joe Torres (35) of Madera was booked just before 9:30 PM. He's accused of cultivating marijuana for sale. Agents say evidence suggests he wasn't growing it just for personal use.



Agents got tipped off yesterday afternoon after Sheriff's deputies were called out to a middle school in Madera County where a child reportedly brought marijuana laced Rice Krispy Treats to campus and shared them with classmates.

Read more...
«
Start
Prev
1
2
3
4
5
6
7
8
9
10
Next
End
»
Page 1 of 55
Tell a friend about Big Valley News