News
News -
Local
Thursday, 16 May 2013 08:00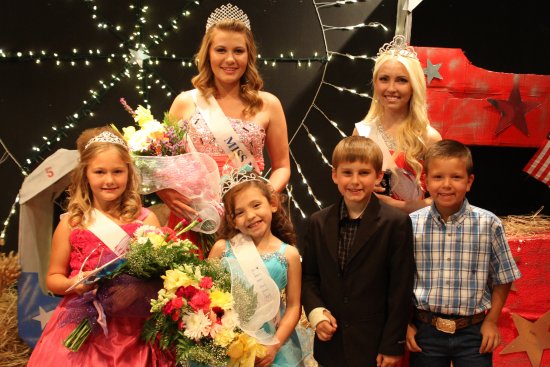 ---
CHOWCHILLA - The Madera County Fair's 2013 season kicked off last night with the crowning of this years Miss Madera and Little Miss Madera in the fairs Little Theater. Unlike years past, there were no crowds waiting at the door and nearly half of the seats were unoccupied. Probably because there were only two young ladies in competition for the title of Miss Madera County. The winner of this title holds her position for the 2013 fair season, but does not go on to compete in progressive pageants like the Miss California Pageant held later this year in Fresno.
Read more...
News - Sports
Wednesday, 15 May 2013 13:26

The Grizzlies will face the New Orleans Zephyrs and Oklahoma City RedHawks during eight-game homestand

FRESNO - The Fresno Grizzlies will begin an eight-game homestand on Thursday, May 16 at Chukchansi Park. The Grizzlies will play a four-game series against the New Orleans Zephyrs, Triple-A affiliate of the Miami Marlins, from May 16-May 19, and a four-game series against the Oklahoma City RedHawks, Triple-A affiliate of the Houston Astros, from May 20-May 23.

Read more...

News - Local
Monday, 13 May 2013 22:56

FRESNO COUNTY - Sheriff Margaret Mims, working with the Nisei Farmers League and National Immigration Forum, has been invited to a White House briefing dealing with immigration. The briefing will take place on the afternoon of Tuesday, May 14.

Law enforcement agencies have become a growing voice in the immigration debate and many have become involved in what's being called the "Three B's" (Bibles, Badges, and Business) group, calling on Congress to develop a comprehensive immigration strategy. Thirty-seven states' Attorneys General recently sent a letter to Congressional leaders asking them to do just that.

Read more...

News - Local
Saturday, 11 May 2013 12:05

MADERA COUNTY – Agents with the Madera County Narcotic Enforcement say a convicted felon's medical marijuana card isn't up to snuff, and took him into custody Friday night. Eddie Joe Torres (35) of Madera was booked just before 9:30 PM. He's accused of cultivating marijuana for sale. Agents say evidence suggests he wasn't growing it just for personal use.



Agents got tipped off yesterday afternoon after Sheriff's deputies were called out to a middle school in Madera County where a child reportedly brought marijuana laced Rice Krispy Treats to campus and shared them with classmates.

Read more...

News - Local
Thursday, 09 May 2013 09:14

MERCED - The Merced Police Department has assemblies planned at two local high schools and four middle schools Aimed at having a dramatic effect on students' decisions in life, especially regarding driving.

Through a grant funded by the California Office of Traffic Safety, the MPD is using funds to sponsor assemblies at Valley Community School, Sequoia High School, Rivera Middle School, Tenaya Middle School, Cruickshank Middle School, and Hoover Middle School. The title of the assembly is "The Power of 3" and is presented by Motivational Media Assemblies (MMA) out of Burbank. MMA uses three large size projection screens for their presentation.




Read more...
«
Start
Prev
1
2
3
4
5
6
7
8
9
10
Next
End
»
Page 1 of 55
Tell a friend about Big Valley News
Comment on the Message Board

Click Here to Comment
Don't just sit there, join the conversation! Just register your account to comment and let us know what you think. Have fun, but please keep it clean and stay on topic — inappropriate remarks will be removed. Commenting Rules: (1) Please increase the credibility of your post by including your full name in the body of your comment. (2) If you would not talk a certain way at a public meeting do not do it on BVN (3) Hate speech of any kind, libelous statements or threats to fellow users or others will be rejected and may be grounds for suspending or terminating a users account. (4) Any post on the message board that is SPAM or commerical use will be rejected and the users account will be suspected or terminated.

Look back at rule number two! Read the BVN Terms of Service at
http://tinyurl.com/8mwb3rz