Life
Life -
Obits
Written by B|V|N Newsroom
Friday, 26 May 2017 14:18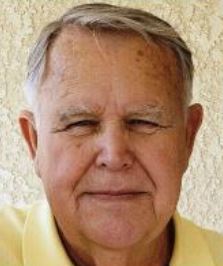 Thomas Eugene Goodwin (77) was born on August 6, 1939 to Vivian Franklin and Laura Lee Goodwin in East Prairie, Missouri. He passed away peacefully in Fresno, CA on May 24, 2017 at the age of 77. Thomas was known as Gene to his family and friends.

Gene married the love of his life, Gwen, in 1957. They welcomed their daughter, Kathy, in 1960 and their son, Alan, in 1963. They moved from Upland, CA to Firebaugh, CA in 1969 where Gene farmed for Gwen's father.
Read more...
Life - Obits

Written by B|V|N Newsroom

Friday, 26 May 2017 09:32

Joe D. Coelho (80) passed away on Monday, May 22, 2017, surrounded by his family at home, at the age of 80. Joe was born in Riverdale, CA, to Joe C. Coelho and Ida Coelho, who were both Portuguese Americans. As a child, Joe D. and his parents worked at various dairies throughout the Central Valley. Joe D., at the age of 15, left his Hanford, CA school and began working full time milking cows, and working on neighboring farms to help support himself, and his family.

In October of 1953, Joe D. met his future wife, Virginia DeBrum, when she was queen of the Portuguese celebration in Fresno, CA. They were married on September 2, 1956. During this time Joe D. continued to relief milk cows, and began working on his father-in-law's small dairy and farm. Soon, Joe D. was able to rent and then purchase some farmland of his own, and began to grow cotton to supplement his income.


Read more...

Life - Obits

Written by B|V|N Newsroom

Friday, 26 May 2017 09:26

Phyllis Giersch (84) was born on September 9th, 1932 to her father, Hans William Hansen and mother, Jenny Marie Linn. Phyllis received all of her schooling in Salina, Kansas graduating from Salina High School in 1950.

She then went on to attend Kansas Wesleyan University for two years. Phyllis was a Gamma Delta Gamma Sorority Member and served on the Advance Newspaper where student staff published the school newspaper. Phyllis was an honor student, majoring in music playing the violin. Her scholarship would have taken her through to graduating at Kansas Wesleyan University.

Read more...

Life - Obits

Written by B|V|N Newsroom

Monday, 15 May 2017 13:23

Benard Robinson (83), also known by many as "Jake" or "BJ", passed away on Thursday, May 11, 2017 in Madera. BJ was a very well-known member of the Madera Community. He was a member of the 2nd Missionary Baptist Church in Madera for many years. BJ was also involved with Kiwanis, the NAACP, Chairman of the Deacon Board, and a member of Morning Star Baptist Church in Madera.

BJ also served as a member on the Madera Unified Board of Trustees for many years. Before his retirement, BJ worked for Vintage Buick as a Parts Manager for almost 40 years. The impact he had on the community of Madera will never be forgotten. In 2007, the Gymnasium at Thomas Jefferson Middle School was named after him.

Read more...

Life - Obits

Written by B|V|N Newsroom

Saturday, 06 May 2017 19:03

Mina Jean Kilcrease (63) passed away on Wednesday, May 3, 2017 at her home in Madera. Mina was born in Baltimore Maryland to Shirley Mensch and Harry Kilcrease on August 17, 1953. Mina has called

Madera her home for the last 50 years, where she has worked within the community as an Accountant for Various Title Companies over the years. Mina was a graduated of Madera High, Class of 1971.

Read more...

Life - Obits

Written by B|V|N Newsroom

Wednesday, 03 May 2017 20:33

CARUTHERS - Robert "Bobby" Edward Trigueiro was born January 2, 1942 in Fresno, Ca. and passed away May 1, 2017 in Caruthers, his hometown his entire life. Bobby at the time of his death, was the owner of Bob Trigueiro Custom Farming specializing in Hay Harvesting. Previously, Bobby was partners with his brother Larry, who preceded him in death in December of 2000. They farmed their own ground, as well as doing custom work for various customers for 40 years.

Bobby and Larry also had Trigueiro Brothers Racing, which was famous first in California short track racing then in the later years on national circuits. Their cars were famous for their color orange, and the #1 they carried. The Trigueiro Bros. cars were known to be fast and look as good as any of the cars in the pits.


Read more...

Life - Obits

Written by B|V|N Newsroom

Thursday, 13 April 2017 07:52

Greg Gleichweit (87) was born on May 10, 1929 to George and Mildred Gleichweit in Madera; he passed away on, April 7, 2017 at the age of 87 in Fresno. He attended Lincoln Grammar School, and graduated from Madera High School class of 1949.

After a course of study at the Brooks Institute of Photography, he began a short career as a photographer. This ended when he enlisted in the Army, and became a Radio Teletype Equipment Repairman. When he was discharged from service, he began repairing radios and televisions, eventually opening his own shop.


Read more...
«
Start
Prev
1
2
3
4
5
6
7
8
9
10
Next
End
»
Page 1 of 13
Comment on the Message Board

Click Here to Comment
Don't just sit there, join the conversation! Just register your account to comment and let us know what you think. Have fun, but please keep it clean and stay on topic — inappropriate remarks will be removed. Commenting Rules: (1) Please increase the credibility of your post by including your full name in the body of your comment. (2) If you would not talk a certain way at a public meeting do not do it on BVN (3) Hate speech of any kind, libelous statements or threats to fellow users or others will be rejected and may be grounds for suspending or terminating a users account. (4) Any post on the message board that is SPAM or commerical use will be rejected and the users account will be suspected or terminated.

Look back at rule number two! Read the BVN Terms of Service at
http://tinyurl.com/8mwb3rz
Tell a friend about Big Valley News