Big Valley News & Photo
News -
Local
Written by News Room
Thursday, 24 July 2014 12:47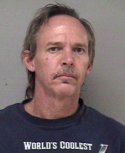 MADERA - An inmate housed in the Madera County Department of Corrections escaped from custody early Wednesday evening. For the next three hours law enforcement agencies all around Madera County tracked down the escapee until he was re-captured three hours later near Madera County's Court House Park in the city of Madera.
Bryan Parry King (47), who was reportedly working in the facility's kitchen area, went to take the trash out, then jumped the fence. His last direction of travel was on Olive Avenue. Bryan King's last known residence is in Coarsegold.
Read more...
News - Sports

Written by Jason Clay - Fresno State

Wednesday, 23 July 2014 13:41

Carr becomes the first Bulldog to receive the Athlete of the Year award from the Mountain West

Read more...

News - Local

Written by News Room

Monday, 21 July 2014 10:59

FRESNO - Southeast patrol and VCIT officers from the Fresno Police Depaartment were dispatched Friday evening to 4034 E. Verrue regarding shots heard in the area with several subjects yelling and screaming. Upon arrival, officers were contacted by the victims who told officers that they had been drinking beer earlier with Suspect Stephen Escalante, birth date: January 30, 1980, and when they asked Escalante to pitch in to purchase more beer he became very irate.

Escalante then stormed in his residence, 4024 E. Verrue, and grabbed a shotgun. He walked to a 2007 Chevrolet truck belonging to a victim, which was parked on Verrue, and he used the shotgun to shoot out the windows and to shoot into the side of the truck.

Read more...

News - Local

Written by News Room

Monday, 21 July 2014 11:05

FRESNO - Sunday eveing Southeast patrol officers from the Fresno Police Department were dispatched to Butler and Winery Avenues regarding a shooting victim at the location. As officers were responding to the location another call came in by a hysterical female saying that gang members just ran over her grandmother. Shortly thereafter, dispatch received another call that the incident was a vehicle verses pedestrian accident with (2) people injured at the scene.

When officers arrived, they quickly determined there were no shooting victims at the scene and that a shooting had not occurred at the location. Officers found a 56 year old Hispanic female laying in the roadway in the 4800 block of East Butler Avenue.

Read more...

News - Local

Written by News Room

Friday, 18 July 2014 11:57

MADERA COUNTY – A Chowchilla man, who, according to his booking sheet, lists his occupation as Beekeeper, sits behind bars – accused of skimming hundreds of pounds of beeswax off a Madera County Apiarist.

Karl Robert Glick (26), is suspected of pocketing more than $2,000 at the beekeeper's expense.




On Saturday, the honey farmer discovered equipment missing from his shop. While visiting one of his hives, saw a bill of sale for $1700 in plain view inside the suspect's open car; and later in the day, deputies would seize the stolen property along with nearly 200 pounds of beeswax from the suspect's property.

Read more...
«
Start
Prev
1
2
3
4
5
6
7
8
9
10
Next
End
»
Page 1 of 118