Big Valley News & Photo
News -
Sports
Written by News Room
Saturday, 13 September 2014 23:59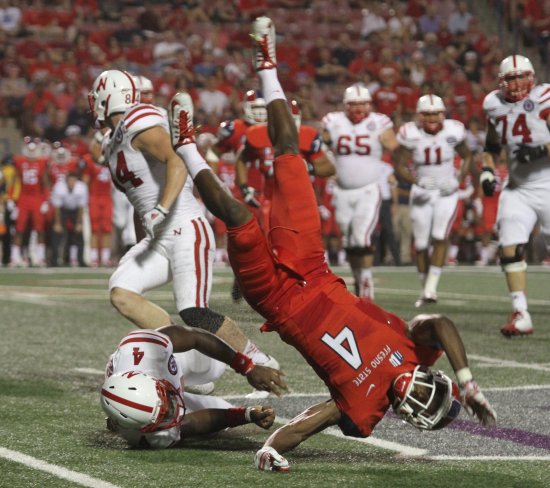 FRESNO
- For the Fresno State Bulldog's the "at home winning streak" ends at thirteen. Saturday night the Dogs faced the number 21 ranked Nebraska Cornhuskers and for the third straight week this season came up very short of a victory.


Nebraska scored twice within the first three minutes of the game. The first score came from a 70 yard pass completion to Sophmore Jordan Westerkamp. The second came from a 57 yard rush from senior Ameer Abdullah. Both after-point kicks from freshman Drew Brown were good for a quick 14-0 lead.
Read more...
News - Local

Written by News Room

Friday, 12 September 2014 07:35

MADERA COUNTY – A morning search for a man reportedly armed with a weapon, forced one elementary school on temporary lockdown.




At approximately 8:30 AM Thursday morning, Madera County Sheriff's Deputies issued the lockdown order during a foot pursuit through a neighborhood not far from Berneda School. The incident ended a short time later when deputies captured 42-year David Leslie Sanchez, of Madera.

Read more...

Photo Gallery - Community Events

Written by News Room

Monday, 08 September 2014 08:05

MADERA - The 2014 season of the Madera District Fair came to an end Sunday evening. The last day of the fair featured an early-bird special on wristbands for carnival rides and thousands of Maderan's took advantage of the savings.

The animals from Saturday's livestock sale were moved out for processing and the FFA and 4H kids finally got to go home after a week of working with their animals.

Read more...

News - Local

Written by News Room

Wednesday, 10 September 2014 07:32

FRESNO - Northeast patrol officers from the Fresno Police Department and EMS were dispatched to the Village Apartments early Tuesday evening on East Bulldog Lane regarding a hysterical female reporting that someone was not responsive at the apartment.

Upon arrival, EMS discovered a 15 month old female that was not breathing and non-responsive. EMS immediately started resuscitation efforts and rushed the child to St Agnes Medical Center but unfortunately the child died. The story provided by the 27 year old mother of the child is that the 15 month old was taking a bath and became fussy so the mother believed the child was hungry.

Read more...

Photo Gallery - Community Events

Written by News Room

Sunday, 07 September 2014 14:08
MADERA - Where can you buy a goat for $50 a pound? The Madera Fair Junior Livestock Auction brought out the agriculture community to support the kids of the FFA and 4H and the community did not disappoint.

The school kids sold their animal projects and some collected belt buckles for grand champions and showmanship. Last year the fair set a record for the amount of money raised to support these projects. This years numbers are not available yet. If you missed the auction you can still come out and place bump bids to help out.

Read more...
«
Start
Prev
1
2
3
4
5
6
7
8
9
10
Next
End
»
Page 1 of 125