Big Valley News & Photo
News -
Local
Written by Jack W Porter, Jr.
Thursday, 28 July 2016 16:47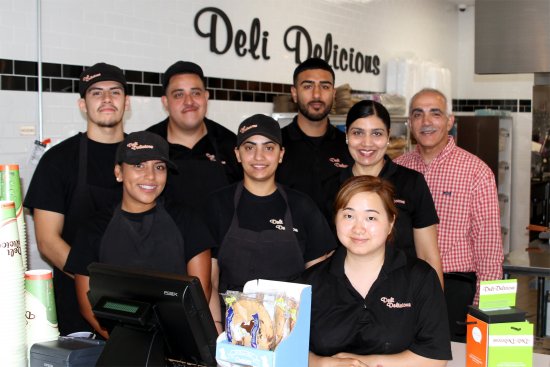 MADERA - Gourmet deli sandwiches can now be found on Madera's West-side as the latest Deli Delicious opened it's doors Thursday morning on Howard Road. With bread baked daily and trip-tip and chicken cooked on site, employees spent most of the morning preparing those and other fresh ingredients for the premier deli sandwiches they would serve to their guests.


The Howard Road location shares the same franchisee as Madera's other location on West Cleveland Avenue. Hari and Surinder Randhawa. The Randhawa's opened that as their first location in 2014 which was soon followed by another in Merced in January of 2015. With their son Jasdeep overseeing the operation of all their locations, the family run business is looking for other locations to offer Deli Delicious award winning sandwiches in the future.

Read more...
News - Local

Written by B|V|N Newsroom

Tuesday, 26 July 2016 14:09

SANGER - Around 5:45 pm on Monday, Fresno County Sheriff dispatchers received a call claiming people were being held hostage inside the Schoolhouse Restaurant and Tavern in Sanger. Victoriano Hernandez (50) of Sanger said his wife had messaged him saying three armed men were attempting to rob the business.

Deputies setup a perimeter and the Fresno County SWAT team was called in. At 7:30 pm, SWAT used its technological equipment to search the building and found it to be empty. Members of the FSO Crisis Negotiation Team later made contact with Hernandez' ex-wife, who said she was never being held against her will.

Read more...

News - Opinion

Written by B|V|N Newsroom

Sunday, 24 July 2016 14:45

City Attempts To Shut Down Sixty Year Old Gym
to Make Room For Planet Fitness

EDITORIAL - There is an interesting thing about access at the Madera City Hall. Certain last names seem to be able to open doors to projects that get very little oversight from the planning commission. If your name is Dave Berry and you want to add another row of houses to a subdivision, the city doesn't mind rerouting major thoroughfares around the extra backyards and fences. If you want to build a three story bank that is two stories taller than any other building in the area and it over looks the private backyards of a residential subdivision, that's no problem either.

In the 1980's if your name is DaSilva and you want to build a gym that you just purchased from a city councilman and mayor, the parking requirements that every other business would be required to follow won't be applied to you. After all you are Lee DaSilva and you just built the expansion to the Memorial Stadium at Madera High School with dangerously small steps to the VIP seating and no one cared about that.

Read more...

News - Local

Written by B|V|N Newsroom

Tuesday, 26 July 2016 13:58

HURON - Homicide detectives with the Fresno County Sheriff's Office have booked Ignacio Sanchez, 34, of Huron into the Fresno County Jail. He faces a charge of murder. Sanchez is also a convicted felon who is part of AB109.

Around midnight on July 10th, 2016, Huron Police officers responded to 36700 S. Lassen regarding a physical disturbance. While driving to the call, dispatchers received a second call stating that there was a man lying on the ground of a store parking lot across the street from the original call.


Read more...

News - Local

Written by B|V|N Newsroom

Wednesday, 20 July 2016 07:50

FRESNO - Early Tuesday evening Officers Nick Alvarado and Rey Medeles of the Fresno Police Department were dispatched to the area of Dakota and Fruit Avenues regarding a possible kidnapping.

Dispatch remained on the phone with the reporting party who gave periodic updates regarding the victim's location. The final update was in the area of Buckingham and Thorne Avenues, where Officers Alvarado and Medeles located the 15-year-old victim, along with two adult males inside a gray BMW. The driver was identified as 19-year-old Fresno resident Shawndell Bledsaw.

Read more...
«
Start
Prev
1
2
3
4
5
6
7
8
9
10
Next
End
»
Page 1 of 217