Big Valley News & Photo
News -
Local
Written by B|V|N Newsroom
Saturday, 31 January 2015 16:23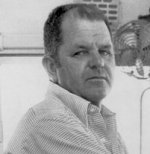 CHOWCHILLA - The Chowchilla City Council has decided to rename the City's Sports & Leisure Park after Mr. Edward Ray. Edward "Ed" Ray is regarded as a local hero from his role as the driver of the school bus with 26 children who were kidnapped on July 15, 1976. The kidnapping launched Chowchilla into national headlines and created a day that many still would like to forget.
The children and Mr. Ray were driven around for 11 hours in two vans before being entombed in a moving van buried in a Livermore rock quarry. Fortunately, Mr. Ray and some older boys pried open the weighted roof lid and escaped after being underground for 16 hours.
Read more...
News - Local

Written by B|V|N Newsroom

Friday, 30 January 2015 17:06

FRESNO - Officers from the Northwest Policing District of the Fresno Police Department were dispatched to a report of an armed robbery of a person at Shaw Avenue and Valentine Avenue Thursday evening. The victim reported he was approached by two Hispanic male subjects who demanded his cell phone and money.




One of the subjects lifted his shirt and displayed a handgun that was tucked into his waistband. The suspects then took the victim's cell phone from him and fled the area on foot.



Read more...

News - Local

Written by B|V|N Newsroom

Sunday, 25 January 2015 14:21

OAKHURST - Early Thursday eveing two men attempted to kidnap a teenage girl along Highway 41 near the High Sierra RV Park in Oakhurst. The girl had stopped to take pictures of the sunset, when two men rushed her from a nearby area where they had been hiding.

One suspect grabbed the girl by the arm and lifted her off the ground while stating that they intended to kidnap her. The girl was able to kick the suspect several times and aggressively resisted his attempt to overpower her. She was ultimately able to break free from his grasp, and then fled to her home.

Read more...

News - Local

Written by B|V|N Newsroom

Friday, 30 January 2015 10:23

DEL RAY - Members of the Fresno County Sheriff's Ag Task Force have arrested 27-year-old Kishsan Sangha of Del Rey. He's been booked into the Fresno County Jail on felony counts of vehicle theft, receiving stolen property, evading a peace officer and probation violation


Ag Task Force detectives developed information that Sangha was attempting to sell a stolen forklift to a previous buyer he met through a Craigslist internet posting. Detectives worked with the potential buyer to set up a meeting with Sangha so they could respond to investigate the sale.


Read more...

News - Local

Written by B|V|N Newsroom

Friday, 23 January 2015 13:18

FRESNO - Deputies have arrested four people believed to responsible for more than a half dozen burglaries during the last two months. Their crimes stretch from Madera down to Visalia and include home burglaries, vehicle burglaries and vehicle thefts.




At 2:00 pm Thursday, two deputies were in the area of Nort. Santa Fe and North Safford Avenues in Fresno investigating the whereabouts of a group of burglary suspects: Trent Murphy, Jacob Ryan and Joshua Ryan. While at that location, the Fresno County Sheriff's deputies saw a red Jaguar with a driver matching the description of one of the Ryan brothers, who are twins.

Read more...
«
Start
Prev
1
2
3
4
5
6
7
8
9
10
Next
End
»
Page 1 of 138