Big Valley News & Photo
News -
Local
Written by B|V|N Newsroom
Wednesday, 24 August 2016 09:07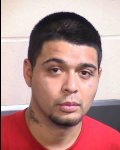 FRESNO - Fresno County Sheriff's deputies have booked Marcos Larios, 26, of Fresno into the Fresno County Jail. He faces a felony charge of evading a peace officer and misdemeanors of DUI and hit and run. Larios has a bail of $61,000.

At 12:45 am on Tuesday, a deputy noticed the driver (Marcos Larios) of a GMC pickup truck weaving all over the roadway on southbound Highway 41 near McKinley Ave. The deputy activated his lights and siren and attempted to make a traffic stop on the truck, but Larios chose not to pull over.

Read more...
News - Local

Written by B|V|N Newsroom

Monday, 22 August 2016 08:53

FRESNO – On the evening of August 14, 2016, California Highway Patrol Helicopter 40 (H-40) was requested by the Fresno County Sheriff's Office to assist with a search and rescue of an ill hiker.

The victim, 66 year old Tara Steele from Santa Rosa, CA, was hiking the Pacific Crest Trail (PCT) when she became ill Sunday afternoon with what she believed to be signs and symptoms of a possible stroke. Steele activated her emergency personal locator beacon giving information to her family that she was in need of rescue.

Read more...

News - Local

Written by B|V|N Newsroom

Monday, 22 August 2016 08:22

MADERA - The Madera County Sheriff's Office wants to warn residents again to be on the lookout for mail theft. Mail theft continues to be a problem, especially in the more rural areas of the county where residents have roadside mail boxes. Stealing mail from an unsecured mailbox only takes a few seconds, but problems arising from the theft can take months or longer to resolve.


Identity theft and other types of fraud are the usual occurrences. Residents should consider placing outgoing mail the mail slots in the Post Office or handing it to a letter carrier; received mail should be picked up as soon as possible and not left in the mailbox overnight. Neighbors should watch out for each other and report any suspicious activity to the Sheriff's Office immediately.


Read more...

News - Local

Written by B|V|N Newsroom

Monday, 22 August 2016 08:40

FRESNO - Property crimes detectives with the Fresno County Sheriff's Office are asking for the public to help them catch a man wanted in connection to multiple home burglaries in the Fowler, Selma and Caruthers areas. The suspect is 29 year old Daniel Fonseca Barroso of Fresno.

He is more commonly known as Daniel Fonseca. He is 6'1", 150 lbs. with brown eyes and black hair. He has several tattoos, including the name "Fonseca" on his back, "Sebastian" on his left forearm and "Syd" on his upper right arm. Fonseca has an active arrest warrant, which carries a bail amount of $205,000.

Read more...

News - Local

Written by B|V|N Newsroom

Monday, 15 August 2016 07:58

FRESNO - Thursday evening a Northeast patrol officer from the Fresno Police Department was dispatched to Clovis North High School, 2770 E. International Avenue, regarding the theft of several thousand dollars of music equipment from the school by former student, Theodore Margosian, 32 years old.



The investigating officer was told the following by the reporting party who is a teacher at the school. The witness was in his office and saw Suspect Theodore Margosian and another white male inside the music building. The witness followed the suspects outside and they tried to evade him on foot.


Read more...
«
Start
Prev
1
2
3
4
5
6
7
8
9
10
Next
End
»
Page 1 of 221