Big Valley News & Photo
News -
Local
Written by B|V|N Newsroom
Tuesday, 28 June 2016 11:43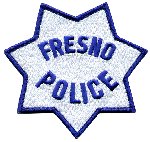 FRESNO - During the mid-morning hours of Tuesday North East patrol officers from the Fresno Police Department were dispatched to Payless Shoes, 3235 N. 1st St., regarding an armed robbery that just occurred.


The suspect was described as a Hispanic male adult, in his late 20s or early 30s, approximately 5'7" in height, 240 pounds, and wearing khaki colored medical scrubs with a white shirt underneath them. The suspect was also described as having numerous tattoos on his arms and he was wearing black Nike shoes.
Read more...
News - Local

Written by B|V|N Newsroom

Monday, 27 June 2016 19:47

FRESNO - Dozens of runners hit the streets of Fresno and Clovis Thursday and completed a 9-mile race as part of the annual Special Olympics Law Enforcement Torch Run. Thus far, Fresno County law enforcement has raised nearly $7,000. Law enforcement as a whole has collected $85,000 for Special Olympics of Northern California.


The Fresno County Sheriff's Office and its public safety partners would like to thank its local sponsors for their generosity and participation to make this a successful event. This includes the following people and organizations.


Read more...

News - Local

Written by B|V|N Newsroom

Sunday, 26 June 2016 22:27

FRESNO

- Fresno County Sheriff's Office detectives have booked two suspects into the Fresno County Jail on three felony charges of conspiring to commit a kidnapping for financial gain, torture and making threats to kill the victim. They are Sandra Garcia, 41, of Madera and her son, Mark Anthony Roque, 18, of Madera. A judge had issued arrest warrants for both of them on June 22nd, 2016.

Around 3:00 am on Friday, Hanford Police responded to a call of a suspicious vehicle. Officers contacted Garcia and Roque inside the car and discovered they had outstanding warrants, so they placed them under arrest. Fresno County Sheriff's detectives responded to the Kings County Jail and transported them to the Fresno County Jail.

Read more...

News - Local

Written by B|V|N Newsroom

Monday, 27 June 2016 14:29

SELMA - Property crimes detectives with the Fresno County Sheriff's Office need the public's help to locate 19 year old Cody Mathers. He is known to stay in the Dinuba and Fresno areas. Mathers was wanted for robbery. Security cameras captured several angles of his crime.

On May 31st at around 6:30 pm, Mathers walked into Lee's Market located at 14942 S. Highland Ave. in Selma. He headed to the beverage coolers located in the back of the business and removed two 12 packs of Corona beer. As he walked toward the counter, he ducked down to avoid crossing paths with an employee.

Read more...

News - Local

Written by B|V|N Newsroom

Sunday, 26 June 2016 22:17

FRESNO - In response to an increase of violent Hispanic rival gang crime in the Southwest Policing District of Fresno an on-going operation to address this issue has been put into effect. As a result of the operation four Fresno Bulldog Gang Members were arrested by members of the Violent Crime Impact Team after a traffic stop.



Officers locating a hand gun inside the car. Mario Cervantes 19 years of age, Abraham Gonzales 30 years of age, Victor Pineda 20 years of age, and Louie Valdez 31 years of age were contacted during a traffic stop in the area of Lilly Avenue & Church Avenue.

Read more...
«
Start
Prev
1
2
3
4
5
6
7
8
9
10
Next
End
»
Page 1 of 214