Big Valley News & Photo
News -
Local
Written by B|V|N Newsroom
Tuesday, 26 April 2016 10:03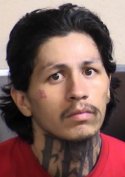 FRESNO - A Fresno County Sheriff's correctional officer (CO) was conducting routine cell checks Sunday afternoon inside one of the jail's pods. Once the correctional turned to leave through a door, inmate Daniel Telles attacked him.
The 27 year old Telles used a jail made weapon to stab the officer behind his left ear. The injured officer took Telles to the ground and restrained him until assisting officers arrived and placed him in a holding cell. The CO was transported to the hospital for medical treatment. His injury did not require stitches and he has since been released from the hospital. He has worked as an FSO correctional officer since March 2016.
Read more...
News - Local

Written by B|V|N Newsroom

Tuesday, 26 April 2016 09:57

FRESNO - On Monday, April 25, 2016, at 11:44 AM, Southwest patrol officers were dispatched to a shotspotter call in the 300 block of N. Clark St. Shortly thereafter, the department received other calls from citizens regarding a shooting at that location.

The callers identified a gray sedan, metallic gray in color, three males in the car as the suspect vehicle. A caller identified the rear passenger as an African American male, with a Dreadlock hairstyle, armed with a black pistol that was the shooter. After the shooting, the suspect vehicle was last seen eastbound on Grant Street toward Thesta Avenue.

Read more...

News - Local

Written by B|V|N Newsroom

Friday, 22 April 2016 13:26

MADERA - The Madera Couth Choir performed this morning at Valley Children's Hospital for the patients, families and staff. The half hour performance was a warm up for their concert next week at Disneyland's California Adventure. The group will take a stage at the park's Hollywood Backlot and perform 50's favorites for the guest of the park. After their performance the students will go into a recording studio at the park and learn the process of recording a soundtrack.

Read more...

News - Local

Written by B|V|N Newsroom

Sunday, 24 April 2016 12:29

MADERA - Friday afternoon around 1:30pm the city of Madera experienced a strong wind storm that moved through the area. Winds from the storm reached speeds of 37 mph according to the National Weather Service at the Madera Airport.

The Madera Police Department received about forty calls regarding wind damage and/or power outages from the storm. There were approximately four temporary power outages caused by downed power lines.

Read more...

Life - Obits

Written by B|V|N Newsroom

Wednesday, 20 April 2016 07:52

Peggy Louise Petrucci (83) passed away on Thursday April 14, 2016, with her family by her side. Her hasband Dino Petrucci, former Madera Unified School Board Trustee just passed 102 days prior. Peggy was born to Raymond and Opal Hayes in Cecil, Arkansas. She spent most of her childhood in Arkansas before moving to Madera in her teen years.

She graduated from Madera Union High School in 1950. Peggy married the love of her life, Dino, at the age of 18 in Las Vegas and for the next 4 years spent many weekends with him at Cal Poly, San Luis Obispo during his time in college. They were married for 64 beautiful years.

Read more...
«
Start
Prev
1
2
3
4
5
6
7
8
9
10
Next
End
»
Page 1 of 206